Mon, 9 June 2014
Cyborgs - A Bionic Podcast: Case File 05 - Tom Schanley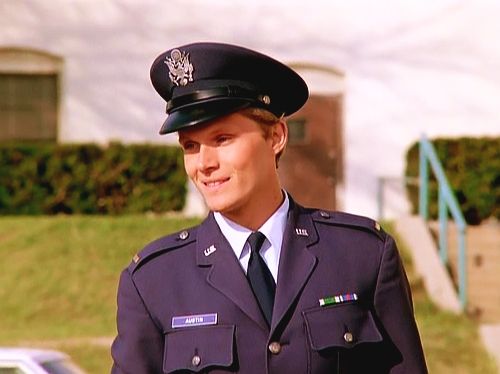 (RIGHT CLICK IMAGE TO SAVE EPISODE TO YOUR COMPUTER)
In this Case File, John and Paul sit down and talk with actor Tom Schanley. To bionic fans, he played Michael Austin in

The Return of The Six Million Dollar Man and The Bionic Woman

, but there is so much more as John and Paul discover in this interview. We talk about his desire to be an actor and his family support, his first roles, and his Six Million Degrees of Star Trek Separation besides his obvious appearance on

Enterprise

.
Comment on the episode here or write abionicpodcast@gmail.com
---
---
It all started 30 miles north of Boston, in the quaint New England coastal town of Manchester, Mass. At a young age, despite a loving family, proper upbringing and a good education, Tom Schanley decided to become an actor ---- Three defibrillator charges later, his parents threw their support behind him and the journey began.
That journey took him to school in New Hampshire, San Diego, England and finally the acting program at USC, where during his junior year, he landed his first professional role as Whit Champion, on the NBC drama series "The Yellow Rose."
After college, Tom continued studying acting with some of the best in the business: Vince Chase, Stella Adler, Winn Handman, and Roy London, to name but a few.
His body of work grew as well, including the television movie "The Alamo - Thirteen Days To Glory" with Alec Baldwin, the starring role in "The Return of the Six Million Dollar Man and the Bionic Woman," and stints on shows with shorter titles like "Fame," "Dynasty," "Melrose Place," and "Lonesome Dove." (He sang "country" on Fame, ladies).
Feature films were also on the menu. Among them, "Fever Pitch," directed by the legendary Richard Brooks, "Red Rock West" (there's a story behind that one), "Courage Under Fire," directed by Ed Zwick, starring Denzel Washington and "Conspiracy Theory," starring Mel Gibson, among others.
Tom continued to exercise his theater chops as well, with notable roles in the award winning "Getting Out," at the Cast Theatre, "The Wager," at the Colony Theatre and as Mark Antony in the critically acclaimed LA Shakespeare Festival production of "Julius Caesar." Tom also spent eight years with the comedy improve troop WITHOUT A NET.
Then came the new millennium, and with it Tom's "multi-hyphenate" status. Alongside friend and actor Jon Lindstrom, Tom wrote and Executive-Produced the feature film "The Hard Easy," starring David Boreanaz, Vera Farmiga, Henry Thomas, Bruce Dern and Peter Weller. Their second script, "Head High" is currently the subject of a bidding war at two major studios - OK - "should" be the subject of a bidding war, or so they think. Tom has a number of solo projects in the pipeline as well. Among them, the un-romantic feature film comedy "Dating Tammy," and the TV pilot "Tee Time." "Saying" the lines however, is still Tom's first love and priority, and the past couple of years have offered plenty of that: "Dexter", "Criminal Minds", "Without a Trace", " The CSI'S", "The Forgotten"..... (and a really cool puppet show in Venice Beach).
Tom happily resides beach-side, Santa Monica, CA. Stay tuned.
---
Links
Comments[0]
---
Adding comments is not available at this time.