Sun, 31 May 2015
Cyborgs: A Bionic Podcast - "Hocus-Pocus"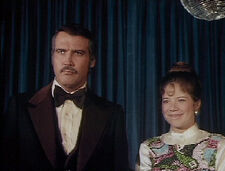 (RIGHT CLICK THE IMAGE TO SAVE THIS EPISODE TO YOUR COMPUTER)
Our long national nightmare is over. We have an ALL-NEW podcast! Paxton Holley (from the Cavalcade of Awesome and the Nerd Lunch Podcast) joins John S. Drew and Paul K. Bisson as they review the very magical episode of The Six Million Dollar Man, "HOCUS-POCUS" in which the ESP Spy, Audrey Moss returns to help Steve Austin pose as a magician in order to recover a stolen Navy code book.
Purchase the season three Universal DVD release of The Six Million Dollar Man. In doing so, you help support the podcast.
Comment on the episode here or write abionicpodcast@gmail.com.
Rating:



The Six Million Dollar Blog entry
(coming soon)
---
---
Paxton Holley was born in Birmingham, AL. He currently lives in Jaxksonville, FL. where he co-hosts the Nerd Lunch podcast as well as the Cult Film Club podcast. In addition, he writes for the pop culture/humor blog Cavalcade of Awesome where he has an ongoing series of articles on the world of bionics from the TV shows to the comics to the games.
Comments[0]
---
Adding comments is not available at this time.