Mon, 9 December 2013
Mighty Movie Podcast: Shaul Schwarz on NARCO CULTURA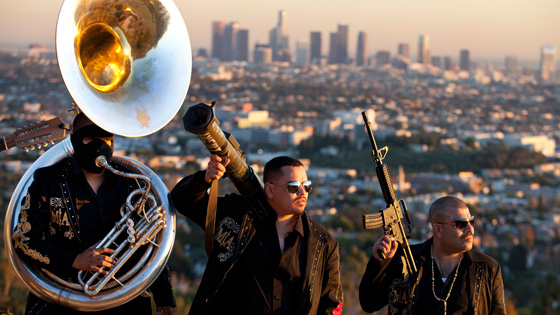 Dan Persons says:
Ah, the romance of the outlaw -- dashing and fearless, living a life of danger and adventure. Except when they're greedy sociopaths leaving a trail of corpses in their wake.
NARCO CULTURA looks into the world of the Mexican drug cartels and how it has spawned a culture that romanticizes and celebrates the bloody exploits of the men behind it. Photojournalist and filmmaker Shaul Schwarz -- leveraging his experience working in such conflict zones as Haiti and the Gaza Strip -- focuses in both on the real-life horror witnessed by Richi Soto, a crime scene investigator in Juarez, Mexico, who has to deal with the terror, corruption, and intimidation spawned by the cartels, and on the cultural impact via the viewpoint of Edgar Quintero, a Los Angeles narcocorrido songwriter and singer, who's acquiring a growing fandom for his odes celebrating the cartels' violent lifestyle.
I was able to sit down with Schwarz for an in-depth glimpse into the motivations for this project and risks encountered in actually bringing it to the screen. Click on the player to hear the show.
WEBSITE LINK: http://narcoculture.com/
Comment on the episode here or write dan@mightymoviepodcast.com or call 888-866-9010.
---
---
Comments[0]
---
Adding comments is not available at this time.