Sat, 13 September 2014
Mighty Movie's Temple of Bad: A TALKING CAT!?!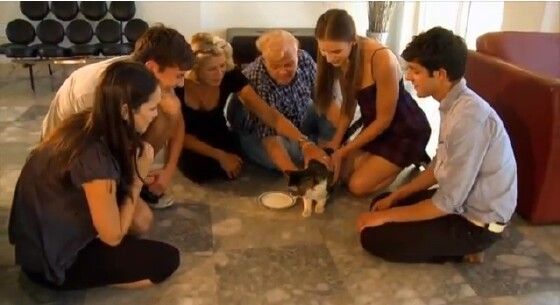 We have to be clear about this: There are bad movies; there are reprehensible movies; there are movies that make you consider taking out a contract on the entire DGA, just to be sure that never in the future of humankind will there be a chance that such an affront to common decency could again be committed. And then there are films that are a strangely exhilarating kind of awful, the kind that actually restore your faith in the perverse diversity of the human race, that re-instill your wonder in the awesome chaos of the universe, that, as the slogan for Temple of Bad has it, are truly a religious experience. Such a film is A TALKING CAT!?! A putative family comedy that isn't funny (at least not in a deliberate way) and that would likely rupture any family unfortunate enough to be exposed to it, this film starts with the premise that people would listen to a cat that dispenses cryptic directives in the voice of Eric Roberts, and then throws such niceties as narrative coherence, plausible characterization, decent production values, and commonsense behavior out the window in its attempt to fill its scant eighty-five minutes with something that justifies its existence.
The Temple of Bad team of Andrea Lipinski, Orenthal V. Hawkins, Kevin Lauderdale and Dan Persons get together to try to puzzle out some method behind A TALKING CAT!?!'s madness (spoiler: they don't succeed). Click on the player to hear the show.
Comment on the episode here or write dan@mightymoviepodcast.com or call 888-866-9010.
---
Comments[0]
---
Adding comments is not available at this time.