Sat, 7 December 2013
SciFi Diner Podcast: Ep. 190 - The SciFi Diner Holiday Special with Star Trek Author Dayton Ward and John Fraizer from Think Geek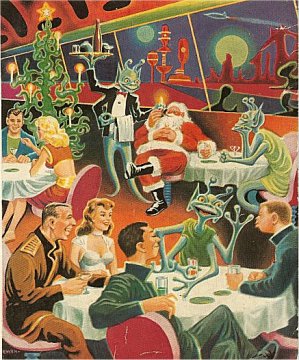 Email us at scifidinerpodcast@gmail.com
or visit us on Twitter @scifidiner.
And check out our YouTube channel.
We are a part of the Chronic Rift Network of podcasts.
Tonight's Diners: Scott, Miles, M, Dayton, and John
---
Welcome to the Diner
If you have listened to the show for sometime, we would love to have you leave feedback on iTunes. We know not all of you use iTunes, but for those that do, it helps us become more visible. If you don't use iTunes, your feedback is still valuable. Visit our webpage at http://scifidinerpodcast.com and leave a comment on the show notes or email us at scifidinerpodcast@gmail.com We want to know what you are thinking about what we are saying and what shows you are watching.
Promos:
The Gatecast
Trekcast Podcast
Cyborgs: A Bionic Podcast
Welcome to our Holiday Special!
We are counting down our top Christmas gifts.... so if you have some extra cash...well, hey, we'd love to help you out with that. Especially Dayton. He's always hustling for cash.....he'll do anything. I mean ANYTHING...even come on the SciFi Diner podcast....
Dayton's List:
1. Officially licensed street legal 1966 Batmobile
2. Death Star wall blocks
3. Larry Nemecek's "Stellar Cartography"
4. Original Art Edition of Heavy Metal
5. Star Wars Original Trilogy Score
John's List:
1. Original Voyager Console Prop w/Okudagram included
2. Firefly The Game
3. Enterprise Ring Ship Hand-Made Artisan Replica
4. Quantum Mechanix Star Trek TNG Communicator Pin
5. Star Trek The Next Generation Season 5 on Blu Ray
M's List:
1. Rogan
2. 3D Printer for Fashion
3. Stovetop Vacuum Coffee Maker
4. Livescribe 3 Smartpen Standard Edition for Tablets and Smartphones
5. PS4
Mile's List:
1. A New Kindle
2. The Ladies of Firefly poster set from Think Geek
3. Amazon Gift Cards
4. Star Trek The Next Generation pajama set
5. Star Trek Into Darkness on Blu Ray (From Target)
Scott's List:
1. Lifesize Landspeeder
2. Google Chromecast HDMI Streaming Media Player
3. Star Wars Frames
4. From History's Shadow by Dayton Ward
5. Doctor Who TARDIS Door Cling (Think Geek)
---
Comments[0]
---
Adding comments is not available at this time.