Fri, 21 February 2014
It Has Come to My Attention: Plastic Galaxy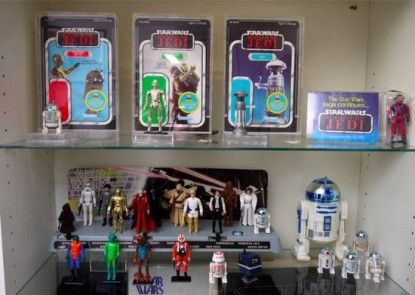 (RIGHT CLICK THE IMAGE TO SAVE THIS EPISODE TO YOUR COMPUTER)
Kevin Lauderdale is back with a look at a documentary on the Kenner Star Wars toys phenomenon. Plastic Galaxy.
From the Plastic Galaxy website:
When Star Wars landed in the theaters, it introduced audiences to a galaxy filled with heroes and villains, robots and space ships, and a dizzying variety of alien life. But when the lights came up, they all disappeared...
Unless you had all the toys. In which case, the adventure never had to end.
In backyards, playgrounds, basements, and bedrooms, Star Wars toys helped kids re-enact scenes from their favorite movies, and create entirely new dangers for Luke Skywalker and his friends to face. They were lusted after on holidays and birthdays, swapped with great cunning out on the school yard, and carefully collected like fine treasures. Like no toys before them, the action figures, space ships, play sets, and props were a phenomenon that swept the nation with as much force as the film that inspired them. Along the way they transformed both the toy and movie industries, earned those behind them vast amounts of wealth, and ultimately created a hobby that, 30 years later, still holds sway over not only the people who grew up with the toys, but also an entirely new generation of fans.
Plastic Galaxy is a documentary that explores the groundbreaking and breathtaking world of Star Wars toys. Through interviews with former Kenner employees, experts, authors, and collectors, it looks at the toys' history, their influence, and the fond and fervent feelings they elicit today.
The film, which will be released on DVD, also includes tours of some of the top collections -- comprising prototypes, bootlegs, foreign toys, and all manner of surprises. DVD extras, including micro-documentaries and extended interviews, make Plastic Galaxy a prize for not only newer fans, but also long-time collectors.
The DVD will be Region 0, meaning it will be playable on any DVD player or computer in any country. Even in galaxies far, far away...
Plastic Galaxy will be released on DVD in January 14, 2014. To continue to receive updates and news, please subscribe to our mailing list, follow us on Twitter, and friend us on Facebook. For more information, feel free to write us at info(at)plasticgalaxymovie.com, or use the feedback form.
Links of Interest
Comment on the episode here or write john@chronicrift.com or call 888-866-9010.
---
Comments[0]
---
Adding comments is not available at this time.