Sun, 3 November 2013
The G2V Podcast: Planet 10, 1st Galaxy: Zombiemania!
In our final Halloween-themed installment for 2013, The G2V Podcast welcomes a special guest – an internationally recognized zombie expert that co-authored ZOMBIEMANIA: 80 MOVIES TO DIE FOR (with a revised edition titled ZOMBIEMANIA RISES: 100 MOVIES TO DIE FOR on the way, cataloguing about 1,000 films!), teaches a course at theUniversity of Baltimore called "Zombies in Popular Media," contributed to volumes like TRIUMPH OF THE WALKING DEAD, BRAAAIIINNNSSS!: FROM ACADEMICS TO ZOMBIES, and THE UNDEAD AND THEOLOGY, and lectures on "Zombies: Monsters with Meaning" at symposia, conventions, and festivals. Who is it? None other than G2V co-host Arnold T. Blumberg!
Scott and Arnold look back at the history of zombies in pop culture, where they started, where they shambled (and occasionally ran) in the years that followed until they infected every medium and genre, and what this whole undying zombie craze might actually mean.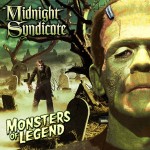 We also have a special contest this episode! Midnight Syndicate has graciously provided us with a copy of their phenomenal new album that pays tribute to the Universal and Hammer legacy, Monsters of Legend! We're giving a copy away to the listener who can answer the following trivia question (also presented in the episode). E-mail, post on our Facebook page or in the comments below, send your answer through the post-apocalyptic wilderness, and if you get it right, the CD will be yours!
This movie was the first to introduce the idea that zombies specifically want to eat brains:
A) Night of the Living Dead
B) Dawn of the Dead
C) Nightmare City
D) The Return of the Living Dead
E) Re-Animator
Good luck!
NOTE: This episode was uploaded by an unknown party that discovered the file on a server after being unable to contact either Scott or Arnold. Listeners should be warned that some of what they may hear might be considered…alarming…
As always, we welcome all feedback at contact@g2vpodcast.com or on our Facebook page!
You can also subscribe to us via iTunes!
Please help support the continued production of The G2V Podcast:

SHOW LINKS:
Illustrations from William Seabrook's THE MAGIC ISLAND
WHITE ZOMBIE (complete film at Archive.org)
WHITE ZOMBIE (novelization by Stephen D. Sullivan)
PLAN 9 FROM OUTER SPACE (complete film at Archive.org)
THE LAST MAN ON EARTH (complete film at Archive.org)
NIGHT OF THE LIVING DEAD (complete film at Archive.org)
ZOMBIE (original trailer presented from Blue Underground)
The "Video Nasties" (Wikipedia)
"The Trioxin Theme" from THE RETURN OF THE LIVING DEAD
AMC's official THE WALKING DEAD page
Run For Your Lives: The Original Zombie Infested 5K Obstacle Course Race
Zombie Video Games (Wikipedia)
Zombies!!! (Twilight Creations Inc.)
Last Night on Earth (Flying Frog Productions)
All Flesh Must Be Eaten RPG (Eden Studios Inc.)
LEGO Zombie Minifigure Bio! ("Briiiiiiiiiicks…")
The Walking Dead "Sassy" Rick Grimes Halloween Costume!
Comment on this episode here or write contact@g2vpodcast.com or call 888-866-9010.
---
Comments[0]
---
Adding comments is not available at this time.