Fri, 31 October 2014
The Weekly Podioplex: October 28, 2014
(RIGHT CLICK THE IMAGE TO SAVE THIS EPISODE TO YOUR COMPUTER)
Ouija managed to make it to the top of the box office last weekend. Now that it's Halloween, can it hold that top spot or will this weekend's releases take it down? There's this and WKRP in Cincinnati on DVD and movie news and more on a new The Weekly Podioplex.
Check out the full show notes here and comment on the episode or write weeklypodioplex@gmail.com.
---
Comments[0]
---
Tue, 28 October 2014
The Dan & Travis Show: Episode 046 - PIRATE SHIP FLASHBACK!
(RIGHT CLICK THE IMAGE TO SAVE THIS EPISODE TO YOUR COMPUTER)
Travel back in time to October 2001! Before Podcasting Radio Genius, there was Internet Streaming Radio Genius. Hear it here! Almost completely uncut*!
Enjoy this blast from the past that you didn't even know existed or maybe you did and didn't care about or forgot you knew but either way it'll be interesting we hope!
*As with past flashbacks, portions not affecting the outcome may or may not have been partially cut. Consult with a physician if persistent.
Check out all the fun of past episodes by visiting them on the web.
HTD EXPRESS – Subscribers! Look for The Handsome Timmy D Express in your feed! Tim will interview creative folks in the entertainment industry about their process. Free with your Dan & Travis Show subscription!
Find us online at thedanandtravisshow.libsyn.com, at Facebook, follow us on twitter @thedanandtravis, add us on Google+, email the MailSac at danandtravis@gmail.com, or find us at The Chronic Rift Network.
---
Comments[0]
---
Tue, 28 October 2014
The Batcave Podcast: Episode 26 - The Devil's Fingers/The Dead Ringers
(RIGHT CLICK THE IMAGE TO SAVE THIS EPISODE TO YOUR COMPUTER)
Aired October 26/27, 1966
When is a Batman episode not really a Batman episode? No, this isn't a Riddler episode. Bruce & Dick and Batman & Robin are barely seen in the first part of this two-parter featuring Liberace as the Great Chandell. What brought that about? How well did Liberace fare with the Dynamic Duo? And was there really a plot in all this anyway?
Chandell, with the aid of the Doe, Rae, and MiMi, attempts to get hold of the Wayne fortune by seducing Aunt Harriet and plotting the deaths of Bruce & Dick. Can he accomplish this and rid himself of his twin brother's blackmail attempt? (Yeah, sounds like a plot to us.
Joining John to discuss Liberace's performance both musically and thespian-wise is Mission Log: A Roddenberry Star Trek Podcast co-host John Champion.
Get your hands on the Batman 66 series via our link here on Amazon. In doing so, you not only have this excellent, remastered set that you can watch and follow along the podcast with, but you support the podcast as well.
Comment on the episode here or write thebatcavepodcast@gmail.com. Take a moment to rate the episode by using our star system at the bottom of this entry.
---
---
John Champion is co-producer and co-host of Mission Log: A Roddenberry Star Trek Podcast as well as co-producer and co-host of the long-running "DVD Geeks" podcast and its predecessor, the "DVD Geeks" TV show. He also produced the unabashedly geeky web-series "Bif! Bam! Pow! Wow!", numerous corporate and commercial videos and a number of DVD special features and behind-the-scenes featurettes. A lifelong science fiction enthusiast, John has moderated panels and hosted special events at fan conventions. In 2006, he started on a long series of video interviews and has produced segments featuring dozens of the creators and talent behind "Star Trek."
Comments[0]
---
Mon, 27 October 2014
The HTD Express: #16 - Dead Squad: An Interview With Stephen Scaia
(RIGHT CLICK THE IMAGE TO SAVE THE EPISODE TO YOUR COMPUTER)
Here's how Tim describes this episode:
"On episode 16 of the Express, I finally welcome one of my oldest and closest friends, writer Stephen Scaia. Along with his writing partner Matthew Federman, you've seen Stephen's writing and producing credits in the shows "Judging Amy", "Jericho", "Warehouse 13" and "Human Target." He's also co-written the feature-film adaptations of "Y: the Last Man" and "Ghost Recon" coming soon a to a theatre near you. These guys know how to tackle big set-piece action stories without forgetting about the core of what makes those stories great – the characters.
Stephen offers a unique perspective in this interview as he and Matthew recently adapted the graphic novel "Pax Romana" and this month released their "Dead Squad", their own original comic book. "Dead Squad" is a part-action, part-horror, all-existential story about a group of soldiers who are surprised to find themselves alive after being killed on a mission. Stephen tells us the different challenges between adapting existing material and creating something completely new across different mediums. We also get into some character analysis for some of your favorite movies which offers great insight on how to get to the root of the characters you're writing.
Stephen has been a great friend and guide to me as a writer. You'll find out why in this interview which offers great advice for aspiring writers but also some practical nuts-and-bolts reminders for seasoned vets. And it's Austin Film Festival week so of course we touch on that as well. Enjoy…
LINKS
Another Interview with Stephen
Comment on this episode here or by writing john@chronicrift.com.
---
Comments[0]
---
Mon, 27 October 2014
Presenting the Transcription Feature: THE GREAT GILDERSLEEVE/THE ADVENTURES OF ELERY QUEEN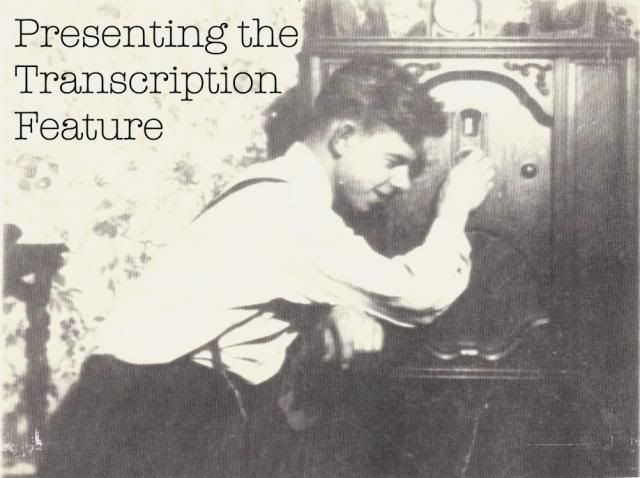 (RIGHT CLICK THE IMAGE TO SAVE THIS EPISODE TO YOUR COMPUTER)
For the end of October, here's two timely episodes. On The Great Gildersleeve, it's Halloween. And that means pranks and parties. Good old fashioned fun in the small town of Summerfield. Then, in honor of the World Series, we check in with amateur detective Ellery Queen as he investigates a ballplayer's stolen bat.
Episodes
The Great Gildersleeve
"The Halloween Party"
October 31, 1943
3:53
The Adventures of Ellery Queen
"The Adventure of the World Series Crime"
October 8, 1942
---
Comments[0]
---
Sun, 26 October 2014
WHO'S TALKING: DOCTOR WHO S08E09 – "FLATLINE"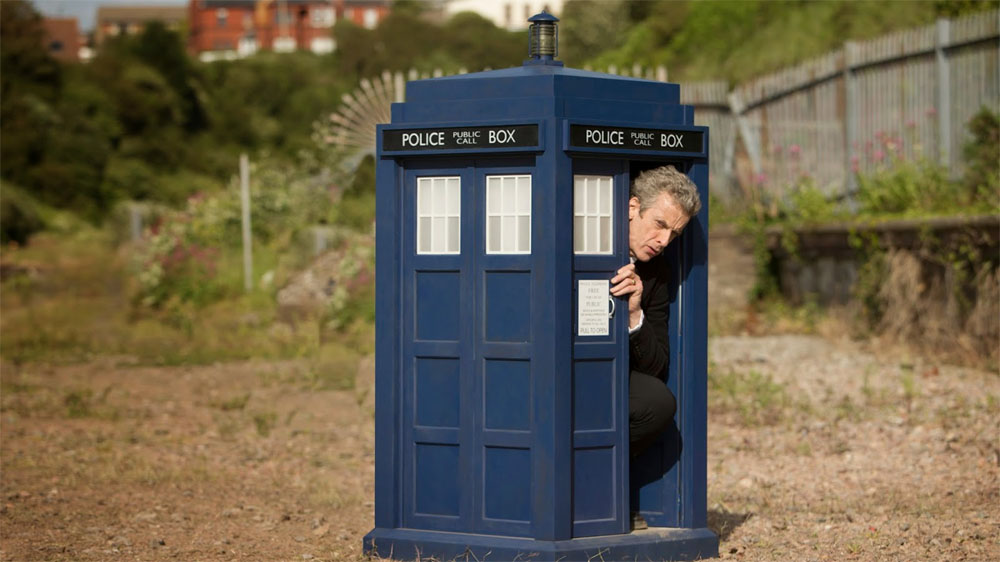 (RIGHT CLICK THE IMAGE TO SAVE THE EPISODE TO YOUR COMPUTER)
The DOCTOR PUPPET team joins Scott and Arnold as we go 3D for "Flatline!" (No, not really.) The Doctor is trapped inside a tiny TARDIS and Clara has to take on the role of the callous, calculating Time Lord. The Boneless are wearing human form and entering our universe from a 2D reality. Who will live and who will die…and WHO gets to make that choice? Join Alisa Stern & Scott Ampleford of DOCTOR PUPPET along with Scott Alan Woodard and Arnold T. Blumberg as they draw up a plan and re-energize for the latest episode of DOCTOR WHO!
…oh and ignore that train noise you keep hearing, it's either the Orient Express or the A113 about to ram something…
Show Music: Rory Hoy's 50 Years Of Time And Space Mix.
We welcome all feedback at whostalkingpodcast@yahoo.com, contact@g2vpodcast.com, or on the G2V Facebook page! Find the show on Twitter at @WhosTalkingCast!
Please help support the continued production of The G2V Podcast Doctor of the Dead, and Who's Talking:

SHOW LINKS:
Doctor Puppet: Animated Adventures in Time & Space (YouTube)
The Doctor Puppet Stop Motion Christmas Special (Indiegogo)
---
Comments[0]
---
Sun, 26 October 2014
SciFi Diner Podcast: Ep. 229 - We Interview Richard Dean Anderson (Jack O'Neill from Stargate SG1 and Angus MacGyver from MacGyver)
(Right click the image to save this episode to your computer)
A 2012 Parsec Finalist
Please call the listener line at 1.888.508.4343
Email us at scifidinerpodcast@gmail.com
or visit us on Twitter @scifidiner.
And check out our YouTube channel.
We are a part of the Chronic Rift Network of podcasts.
Tonight's Diners: Scott and Miles
---
Welcome to the Diner
If you have listened to the show for sometime, we would love to have you leave feedback on iTunes. We know not all of you use iTunes, but for those that do, it helps us become more visible. If you don't use iTunes, your feedback is still valuable. Visit our webpage at http://scifidinerpodcast.com and leave a comment on the show notes or email us at scifidinerpodcast@gmail.com We want to know what you are thinking about what we are saying and what shows you are watching.
Tonight's Menu
Richard Dean Anderson
Thank you to Kate R from www.rdanderson.com for allowing us to use this biography.
Richard Dean Anderson is probably best known as MacGyver, the clever and inventive nonviolent hero who solved problems in his own unique way for seven successful seasons on ABC. In his roles before and since, this gifted actor has continued to demonstrate his remarkable talent and versatility.
Richard was born on January 23, 1950 in Minneapolis, Minnesota. His father, Stuart Anderson, taught English, drama, and humanities at a local high school, and is an accomplished jazz bassist. His mother, Jocelyn, is an artist, talented in both painting and sculpture. Richard is the eldest of four sons. He and his brothers, Jeffrey Scott, Thomas John, and James Stuart, grew up in the Minneapolis suburb of Roseville, where Richard developed early interests in sports, the arts, music, and acting.
Like many boys growing up in Minnesota, Richard dreamed of becoming a professional hockey player. However, at the age of 16, he broke both arms, in separate accidents three weeks apart, while playing in high school hockey games. He put aside his dreams of playing professionally, though he still harbors a deep love for the sport. Richard talks of his restlessness growing up, his early desire to explore, and his adventures hitchhiking and hopping freight trains. At the age of 17, he took a 5641 mile bicycle trip from his home in Minnesota through Canada and Alaska, an experience which was sparked by his sense of adventure and discovery, but which also gave him a more centered sense of direction.
He studied drama at St. Cloud State University and at Ohio University, though he left just short of completing his degree. His travels took him briefly to New York City, and he spent some time experiencing the cultural revolution of the Haight-Ashbury district of San Francisco, before finally settling in Los Angeles. There he worked as a street mime and juggler, and as a jester-singer at a Renaissance-style cabaret. He also worked for a time at Marineland, where he wrote, directed, and performed in the marine mammal shows. His job included holding fish in his mouth for the killer whales to leap up and snatch, and he tells of the powerful whack to the face he took while rehearsing his routine with an orca. He appeared in plays and live theater as well, including landing a role in Superman in the Bones at the Pilgrimage Theatre. During his early years he also joined his friend Carl Dante, and for a time sang and played guitar as part of Carl's rock band under the name "Ricky Dean and Dante".
Richard came to national attention in 1976 as Dr. Jeff Webber on the popular daytime drama General Hospital. After five years in that role, he felt it was time to move on, and he left to try his hand at prime time television. He appeared in two short-lived television series for CBS, as the eldest brother in Seven Brides for Seven Brothers in 1982, and as a hot-shot Naval pilot in Emerald Point N.A.S. in 1983, as well as numerous guest appearances in other series.
In 1985 Richard was cast in his signature role as MacGyver, on ABC. He has told the story of how he won the role. He had been called in for an audition, and asked to "cold read" an unfamiliar script. Being very nearsighted, he asked to wear his glasses for the reading, and that simple unselfconscious gesture immediately convinced the show's producers that they had found the right man to become their unpretentious hero. MacGyver ran for seven successful years, and continues to enjoy popularity all around the world.
He made his TV movie debut in 1986 in Ordinary Heroes, with Valerie Bertinelli. In this remake of the 1945 movie Pride of the Marines, Richard gave a moving performance as a soldier who is blinded three days before returning home from Vietnam. In preparation for the emotional demands of the role, he studied with the late Peggy Feury before shooting began. He demonstrated his incredible talent for a variety of roles when he appeared in several movies for CBS television following the finale of MacGyver. In 1992 he starred as a disillusioned cop opposite Justine Bateman in the movie In the Eyes of a Stranger, and as a psychotic stalker pursuing Marg Helgenberger in Through the Eyes of a Killer. His chilling performance as an abusive husband opposite Susan Dey in the 1994 movie Beyond Betrayal caused Daily Varietyto remark, "...credit Richard Dean Anderson with a performance so creepy that masks of his character could be Halloween bestsellers." In June of 1995 he explored the opposite end of the acting spectrum with a powerful and touching performance as a father grieving the loss of his young son in Past the Bleachers, for ABC.
As MacGyver came to an end, Richard and his partner, Michael Greenburg, had signed an overall deal with Paramount Pictures to develop and produce several films and series for television for their own production company, Gekko Film Corp. In their first project, Richard acted as both star and executive producer of two MacGyver movies for television, both of which were filmed in London in 1993. MacGyver: Lost Treasure of Atlantis and MacGyver: Trail to Doomsday aired in 1994 to critical acclaim. Their next project for Gekko was the 1995 TV seriesLegend for UPN. In it, Richard portrayed Ernest Pratt, a dime novelist who reluctantly takes on the role of his literary hero, Nicodemus Legend, in a lighthearted blend of western and science fiction. Once again Richard took on the role of executive producer, as well as demonstrating a considerable talent for comedy, in what he has described as his favorite role to date.
Following the premature cancellation of Legend, Richard signed an agreement with CBS television, and filmed a pilot episode for a new rda4television series, Firehouse, although the series was not picked up by the network. His next appearance was as the heroic captain of a doomed airliner in the 1996 blockbuster NBC miniseries Pandora's Clock, which received critical acclaim and was an important ratings winner for the network. He followed this success by joining with MGM/UA and Showtime television in a joint deal with Gekko Film Corp to produce and star in the new science fiction series Stargate SG-1, based on the 1994 movie. His new series began production in Vancouver in February of 1997, and debuted to outstanding ratings on Showtime on July 27, 1997.
Richard loves to travel, and he has retained his love for music and the arts. He enjoys collecting art, with his tastes running from the French Impressionists to the more modern. He continues to play the guitar, and has even tried his hand at composing, including the original piece,Eau d'Leo, which was used in the series MacGyver. He has expressed his appreciation for both classical music and jazz, as well as the country-rock guitar style of artists such as Steve Earle, and has considered Leo Kottke to be his musical idol for years. An avid sports fan, he indulges his passions for hockey, skiing, baseball, sky diving, cycling, and auto racing whenever possible. He enjoys fast cars and motorcycles, and owns, among others, both a 1000cc Harley-Davidson Sportster and a black Acura NSX. He has participated in the Toyota Celebrity Long Beach Grand Prix twice, as well as various other racing events around the country. He has a passion for skiing, and can often be found on the ski slopes, both in his off time, and for numerous celebrity events for charity. As a huge fan of ice hockey, he is one of the founders of the Celebrity All Star Hockey team, a collection of hockey enthusiasts from the sports and entertainment worlds, who play in NHL cities throughout the country for charity. In 1988 and 1992, Richard was chosen to be the honorary captain of Team USA, the United States Olympic hockey team, and he takes pride in his opportunities to become an ambassador for the sport.
Richard actively supports many charities and organizations. For many years he has been on the Board of Trustees for the Challengers Boys and Girls Club, a youth organization founded in 1968 with the help of MacGyver executive producer Stephen Downing, and upon which the Challenger Center of the TV series was based. He is the recipient of the 1995 Celebrity Award from the Make-A-Wish Foundation, and his commitment to the Foundation, an organization that grants wishes to terminally ill children, has included many opportunities for his young fans to visit the set. He has supported the Multiple Sclerosis Society, and has done several public service announcements for causes he strongly supports, including the Center for the Prevention of Handgun Violence, and Project Literacy US. For many years he has given his support to the Special Olympics, and was one of the key speakers at the opening ceremonies for the Special Olympics games in 1991. In recent years, Richard's focus has been particularly drawn to environmental issues. He has been named to the board of directors of the Sea Shepherd Conservation Society, and he has partnered with members of Earth River Expeditions to produce the "River Project," a series of documentaries about the great rivers of the world.
Richard Dean Anderson is 6 feet, 2 inches tall, with naturally dark brown hair and eyes. He has a deep love of dogs, whom he refers to as his "favorite people," and his most constant companion for many years had been Whiskey, the Australian shepherd he had raised from a puppy, and a permanent fixture on the MacGyver set, who passed away in 1989 at the age of 13. In 1996, Richard found himself a new companion in Zoë, yet another Australian shepherd puppy and "best friend."
Richard has never married, and although he prefers to keep his private life private, he has been linked in the past with several high-profile women, including Deidre Hall, Sela Ward, Marlee Matlin, Katarina Witt, Teri Hatcher, and Lara Flynn Boyle. In 1996, Richard met Apryl Prose, and together they celebrated the birth of their first child, a daughter, on August 2, 1998. Wylie Quinn Annarose Anderson entered the world at 7 lbs. 11 oz. Richard speaks with great enthusiasm about his new adventure of fatherhood, and takes great pride in his reputation as a doting dad. Richard lives both in Vancouver and near Los Angeles, as well as owning a cabin in northern Minnesota.
Throughout his career, Richard has made a point of selecting roles that would allow him to stretch and demonstrate the range of his remarkable skill. With additional projects in development from Gekko Film Corp, Richard's fans can look forward to many more appearances from this accomplished and versatile actor.
Thanks to Kate R. for compiling this biography. You can find the original plus many more photos at: www.rdanderson.com.
Comments[0]
---
Sat, 25 October 2014
The Weekly Podioplex: October 21, 2014
(RIGHT CLICK THE IMAGE TO SAVE THIS EPISODE TO YOUR COMPUTER)
With apologies to Michael Falkner, here is this week's episode of The Weekly Podioplex. There are new movies out this weekend. Check out the trailers here as well as the mix of movies and TV on DVD releases.
Check out the full show notes here and comment on the episode or write weeklypodioplex@gmail.com.
---
Comments[0]
---
Fri, 24 October 2014
DOCTOR OF THE DEAD 20: THE WALKING DEAD S05E02 – "STRANGERS"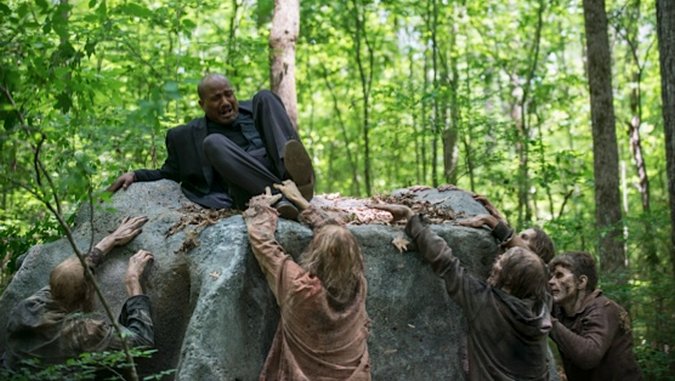 (RIGHT CLICK THE IMAGE TO SAVE THE EPISODE TO YOUR COMPUTER)
Father Gabriel Stokes needs help, and he gets it when Rick and the rest of the survivors save him in the latest episode of THE WALKING DEAD, "Strangers!" But what secret is Stokes hiding? Will Rick decide to take on Abraham's mission to deliver Eugene to DC? And will those that were once hunted become…the Hunters? Join Arnold and Scott as they fire up the BobBQ and chat about what was good, what wasn't so good, and what sort of grade the Doctor thinks the episode deserves!
Also this episode: Z NATION: "Resurrection Z!"
Show Music: "Bitter Pill" (feat. Vosmoy) by Still Pluto.
Please help support the continued production of The G2V Podcast and Doctor of the Dead:
---
Comments[0]
---
Mon, 20 October 2014
WHO'S TALKING – DOCTOR WHO 8.8 - "MUMMY ON THE ORIENT EXPRESS"
For what may be their last hurrah, Clara and the Doctor board the Orient Express…in space…and find themselves in line for death at the hands of an ancient mummy! What drives the creature to choose its prey? And can the Doctor figure it all out and stop the ragged rampager before the fatal 66 seconds are up? Join Scott Alan Woodard and Arnold T. Blumberg as they putter about the lab and analyze the latest episode of DOCTOR WHO!
Show Music: Rory Hoy's 50 Years Of Time And Space Mix.
We welcome all feedback at whostalkingpodcast@yahoo.com, contact@g2vpodcast.com, or on the G2V Facebook page! Find the show on Twitter at @WhosTalkingCast!
Please help support the continued production of The G2V Podcast Doctor of the Dead, and Who's Talking:

---
Comments[0]
---