Thu, 24 October 2013
The Batcave Podcast: Episode 6 - A Riddle a Day Keeps the Riddler Away/When the Rat's Away, the Mice Will Play
King Boris' visit to the United States is interrupted by an exploding bouquet of flowers that hide a riddle inside, the calling card of the Riddler. What is his scheme? Can Batman and Robin figure it out before an international incident can occur?
Joining John to figure out the Riddler's clues is author, musician, and podcaster Keith R.A. DeCandido.
Comment on the episode here or write thebatcavepodcast@gmail.com or call 888-866-9010. Take a moment to rate the episode by using our star system at the bottom of this entry.
---
---
Keith R.A. DeCandido is a writer, editor, musician, podcaster, curator, voice actor, and probably some other stuff, too, but he can't remember due to lack of sleep. In 2009, he received a Lifetime Achievement Award from the International Association of Media Tie-in Writers, which means he never needs to achieve anything ever again.

He has written tie-in fiction in prose and comics form for more than twenty different universes ranging from TV shows (Star Trek,Farscape, Supernatural, Leverage, and many more) to movies (Cars, Serenity, Resident Evil, Kung Fu Panda), to games (World of Warcraft, Dungeons & Dragons, StarCraft, Command and Conquer) to comic books (Spider-Man, X-Men, Hulk, Silver Surfer). He is the author of the acclaimed Precinct series of fantasy police procedurals including Dragon Precinct, Unicorn Precinct, and Goblin Precinct, with 2013 seeing the release of Gryphon Precinct and Tales from Dragon Precinct, as well as a comic book and audios of all four novels.

Other recent work includes writing the monthly Farscape comic book with series creator Rockne S. O'Bannon; the SCPD novel The Case of the Claw, a novel about cops in a city filled with superheroes; the Leverage novel The Zoo Job; the comic book miniseries The Fallen; the short-story collection Ragnarok and Roll: Tales of Cassie Zukav, Weirdness Magnet, urban fantasy stories taking place in Key West; and short stories in the anthologies Apocalypse 13, Bad-Ass Faeries: It's Elemental, Defending the Future: Best Laid Plans, Liar Liar,More Tales of Zorro, Star Trek: Seven Deadly Sins, and Tales from the House Band Vols. 1 & 2. He has also contributed to several shard worlds: Steven Savile's Viral (the novella -30-), Aaron Rosenberg & David Niall Wilson's The Scattered Earth (the novel Guilt in Innocence), and Jonathan Maberry's V-Wars (the story "The Ballad of Big Charlie").

Keith is also a longtime editor. He was the supervising editor of the Marvel novels published by Penguin Putnam from 1994-2000 and the monthly series of Star Trek eBook originals published by Simon & Schuster from 2000-2008. His anthology credits range fromImaginings and Liar Liar to the Doctor Who: Short Trips anthology The Quality of Leadership to the Star Trek anthologies New Frontier: No Limits, Tales from the Captain's Table, and Tales of the Dominion War. Currently he edits for clients both personal and corporate via KRADitorial.

Keith is a musician, once the percussionist for the Don't Quit Your Day Job Players (musical guests of Dragon*Con in 1998), currently the percussionist of sometime D*C filk guests the Boogie Knights. His work can be heard on the DQYDJP CDs TKB and Blues Spoken Here and the BK CDs Many a Sleepless Knight and Wasted Days, Wasted Knights.

Of late, Keith has become a serious podcaster -- he's part of the staff of The Chronic Rift, a pop-culture podcast, and has his own 'cast, Dead Kitchen Radio. He also provides voices for the audio dramas The Dome, Gypsy Cove, and the Parsec Award-winning HG World.

On top of all this, Keith is a black belt in Kenshikai karate and a devoted fan of the New York Yankees (in fact, he co-edited the 2013 Yankees Annual for Lindy's Magazines). He lives in New York City with a couple of humans and several animals. Find out less as his cheerfully retro web site of DeCandido.net, which provides links to his Facebook page, his Twitter feed, his blog, his podcasts, and many and varied other things that probably sound cooler than they actually are.
Comments[0]
---
Thu, 24 October 2013
The SciFi Diner Podcast Ep. 187 Our Interview with Raul Aguirre Jr. (Man vs. Art, Disney Animator, Family Guy, and Lalaloopsy)
Email us at scifidinerpodcast@gmail.com
or visit us on Twitter @scifidiner.
And check out our YouTube channel.
We are a part of the Chronic Rift Network of podcasts.
Tonight's Diners: Scott, Miles, and M.
---
Welcome to the Diner
Menu:
Interview: Raul Aguirre Jr. (Animator: Hand animator) Man Vs. Art
Trivia: Who won a signed Amanda Tapping print?
TV News: Walking Dead Wakes Up Huge Ratings; Marvel: Agents of Shield Gets Full Season; Arrow Teases; Screen Shot of Black Canary w/ Arrow; Breaking Bad's Big Fan;
Movie News: Ant Man Movie News; R.U.R. News,
TWIST: Who said what? UNCONFIRMED RUMOR: Orci talked to CBS about Trek TV Show
SciFi 5 in 5 : M's Top Moments from Comicon….
Promos:
Our Interview: Raul Aguirre Jr.
Raul Aguirre Jr. was born in East L.A. but grew up on the mean streets of Hacienda Heights California. Back when he was 3 heads tall Raul picked up a crayon and did his version of the ceiling of the Sistine Chapel only instead of biblical figures, his featured Popeye battling Mighty Mouse While Dinosaurs in Spaceships carpet bombed the Legion of Doom. Unfortunately he chose to create his first masterpiece on his mother's living room wall. The combination of laughter and horror on his mother's face left an indelible mark on the lad. He learned Art is Powerful! From that moment on Raul decided he wanted to become an artist.
For the next 30 years Raul embarked on a lone quest for artistic mastery with an unwavering Quixote-like madness and dedication.
---
---
Comments[0]
---
Wed, 23 October 2013
The G2V Podcast: Planet 9, 1st Galaxy: The Lovecraft Legacy – PLUS Contest: Win Midnight Syndicate's The 13th Hour!
His influence has wound its way tentacle-like into every nook and cranny of pop culture. In a vast and mysterious ocean of entertainment, his stories have inspired and influenced entire waves of film, television, comics, games, and so much more. This way may lead to madness, but Scott and Arnold devote this installment of their month-long Halloween exploration by diving deep into the legacy of the one, the only H.P. Lovecraft! And to do it right, Arnold travelled all the way from Baltimore MD to Portland OR, just in time to join Scott for a Lovecraft film festival featuring a 35mm print of Re-Animator!
We also have a special contest this episode! Midnight Syndicate has graciously provided us with a copy of one of their albums, The 13th Hour, which we're giving away to the listener who can answer the following trivia question (also presented in the episode). E-mail, post on our Facebook page, beam your answer into our addled minds, and if you get it right, the CD will be yours!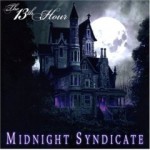 Lovecraft's novella, At the Mountains of Madness, was published by what pulp magazine?
A) Amazing Stories
B) Argosy All-Story Weekly
C) Weird Tales
D) Astounding Stories
E) Startling Stories
And stay tuned for the next episode, when we'll be featuring another Midnight Syndicate album giveaway!
…but be warned, The G2V Podcast can not be held responsible if listening to this episode alters your physical form or renders you utterly insane!
As always, we welcome all feedback at contact@g2vpodcast.com or on our Facebook page!
You can also subscribe to us via iTunes!
SHOW LINKS:
"Lovecraft Slowly Shedding Cult Status" (Chicago Tribune)

The H.P. Lovecraft Historical Society
The H.P. Lovecraft Film Festival and CthulhuCon
The Hollywood Theatre, Portland OR
Copyright Status of Works by H.P. Lovecraft (The H.P. Lovecraft Wiki)
Comment on this episode here or write contact@g2vpodcast.com or call 888-866-9010.
---
Comments[0]
---